Royal Mile Whiskies and Me
It is certainly interesting times for the whisky industry. When I was first getting in to whisky the big three retailers were Sukhinder Singh at The Whisky Exchange, Richard Johnson at Loch Fyne Whiskies and Keir Sword at Royal Mile Whiskies. Today's announcement that Keir Sword had sold RMW to former shop worker Iain McClune now means that all three companies have changed hands - I am getting old! It did however get me thinking about my time working on the Royal Mile. I was there from about 2001 until 2004.
As part of my Marketing degree at Napier (I know, four years well spent I hear you say) I had to do a 13 week work placement and I did it in the office, mainly working on the website and processing orders. My 13 week placement lasted 18 months until Keir convinced me to go back to Uni to do my final year, otherwise there is a good chance I would have still been there. I'm still not sure if Keir, along with Robin Torrie, was putting me back to Uni for my own good or simply to get rid of me.
I had a great time at RMW starting on the shop floor, before heading in to the office, at a time when we had seven different Port Ellens on the shelf for under £100 each and Springbank 21yo was £45 a bottle. It was an excellent place to work and everyone was so enthusiastic about whisky - every day was a school day and you'd always learn a something new from guys like Alex, Stuart and Sandy, who are still with the company today. I was also impressed that Keir was no stranger to the shop floor and would always pitch in when he was in the shop.
The staff tastings were always fun, and not just because of the haggis, chicken and jalapeño pizzas at Mamma's on the Grassmarket or the pints at the Bow Bar that would ultimately follow. One of my favourites was when I did a blind tasting and Islay Mist came out on top against a stunning line up. We loved it and ended up selling so much of it through the shop that it became an official shop bottling for a while - I actually bought a couple of bottles from them the other day and it's still as good as I remembered.
I very nearly didn't get a job at RMW though. Having handed in my CV, I was naively confident that I would get a job, due to the fact that I was working at the SMWS at the time and had previously been behind the bar at the Craigellachie hotel. A week or so passed and I'd heard nothing, how odd I thought. So I phoned up and asked why no one had got in touch. It turned out they hadn't been in touch as I'd put my phone number down as 0123456789! Once that was sorted out they bizarrely did employ me.
Another fond memory I had was that I was working there when we did the first Whisky fringe. It's amazing to think that the night before the festival we were running all over Edinburgh dishing out free tickets in whisky bars and trying to sell a few more tickets - I'm sure things are still the same….
When I left Royal Mile Whiskies I was very fortunate to be given a bottle of 25yo Highland Park with a very tongue in cheek label - I am glad to say that I am no longer a "Single Highland Bloke"!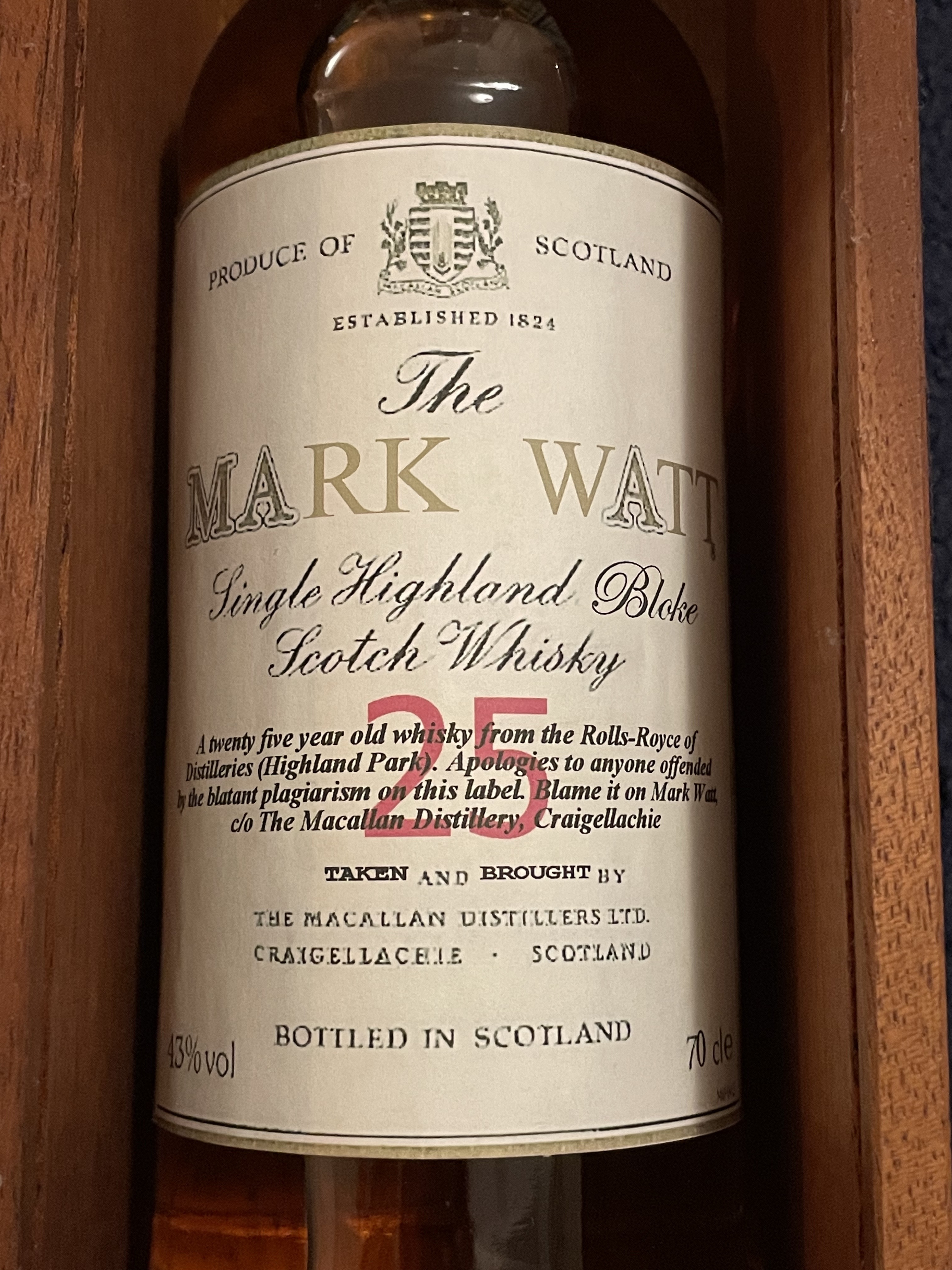 I have to admit I don't know Iain, but I am sure he will continue on all the good work that has been done at RMW, and with appointing Arthur Motley as the new MD they have one of the nicest guys in the industry and someone I have long had an admiration for; He's one of the most knowledgable people on whisky there is and I would certainly recommend watching his Liquid Antiquarian podcast. I was lucky enough to have worked with him behind the bar at the SMWS along side Annabel Meikle (what a dream team!), but I had left RMW by the time Arthur joined.
I remember once someone suggesting that Arthur and I write a book together, swiftly followed by "Yeah Mark can do the drinking and Arthur can do all the writing!"
I wish the new regime all the best (Not that they need it) and am hopeful I will be giving Keir abuse on Saturday night after Aberdeen beat his beloved Dundee Utd.