Watt Whisky's Christmas Gift Guide
Yes folks, it's that time of year again. Now that we are actually in December, surely even the most bah-humbuggy amongst you have started to think about Christmas shopping. But what to get for your whisky loving friends? Well, a bottle of Watt Whisky, obviously, but why not show them you really care with a bottle AND something to go with it? Here are a few of our suggestions, all sourced from our fellow Campbeltown businesses.
For the Outdoorsy Type
Walking boots, a flat cap and a hip flask. Allowing you to enjoy your Watt Whisky in style at the top of any munro, hill or mountain or along one of our many windswept beaches.
Walking boots £59.99 from the Kintyre Shoe Company, flat cap £17 and Harris Tweed hip flask £20, both from A P Taylor.
A Hamper full of Goodies
Choose your whisky, choose what you'd like to go with it, and the Kintyre Larder will package it all into a lovely hamper for you. They have a fantastic selection of sweet and savoury treats, from some great local suppliers, as well as beers, wine, coffee and teas so loads to choose from!
Hamper shown £125. Contents and budget can be adjusted to suit. Local delivery £3.50
Curl up with a good book
A good book, a good whisky and some new glassware - what's not to like? A whisky theme to your reading material is entirely optional.
The Whisky Experience Tasting Glass set £40 from Duncan McMillan Home Furnishings.
Books from The Old Bookshelf : Whisky from Small Glasses & A Last Dram Before Midnight by Denzel Meyrick both £8.99. This detective series is set in the town of Kinloch, a fictionalised (but still very recognisable!) version of Campbeltown. Coal Fires and Tuppence for the Bus by local author Freddie Gillies £11.99 and The Whisky Manual by Dave Broom £14.99 and Whisky, the Complete Guide by Charles McLean £12.95.
Say it with Flowers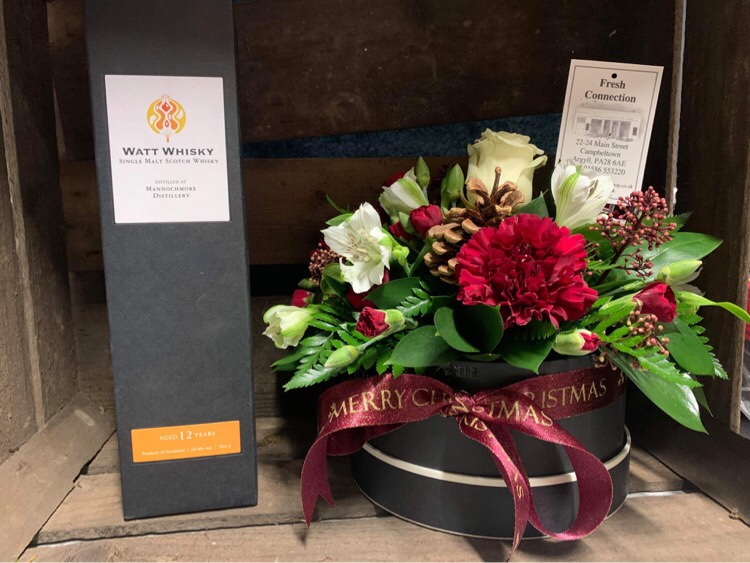 I don't know if whisky and flowers is already a thing but it definitely should be! Fresh Connection will happily deliver a bottle (which you'll need to source from Hall's around the corner) to your loved one's door, along with one of their lovely festive flower arrangements. (They also do some very nice chocolates!)
Hat Box flower arrangements from £30. Local delivery £3.50
Booze, booze and more booze
Not sure whether to get someone whisky or gin? Get one of each! You can even colour co-ordinate the bottles like we've done here with our Watt Whisky Inchgower and the Kintyre Pink Gin.
Watt Whisky Inchgower 13 Year Old £60 and Kintyre Pink Gin £28, both from Halls of Campbeltown. UK delivery £7.50 for two bottles.
Drinks are on me!
We're certainly all long overdue a night out or a weekend away. And where better to do it than our local, and award winning whisky bar, the Ardshiel? Since it's still not entirely clear when that can happen though, gift vouchers would seem like the sensible choice!
Gift vouchers to the value of your choice from the Ardshiel Hotel. These can be used for drinks, food or rooms. Our whiskies are available by the bottle and the dram (hint, hint!).